I remember buying bags of coffee at my local grocery store and wondering why they all tasted the same... either burnt beans or some type of sweet chocolatey flavor. Not to mention the flavor infused coffees that tasted like hazelnut or Texas pecans. 
ABSOLUTELY NOTHING WRONG WITH THEM.... I just knew that the first time I tasted specialty coffee roasted by a local coffee shop and brewed fresh at home, it blew my mind. There were flavors that I've never tasted before coming out of my mug! Sometimes it was hints of berries, other times the sweet taste of jasmine!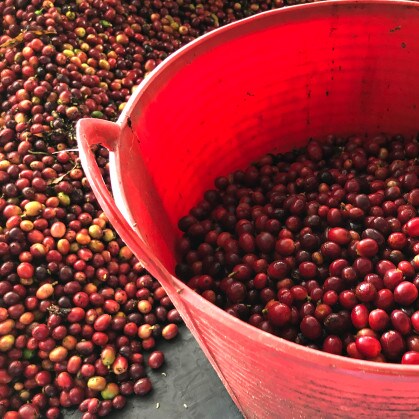 I don't think I ever plan on roasting my own coffee because that's a craft in itself. Lots of time that needs to be logged behind a roaster and most unfortunate... lots of really burnt coffee I'm sure. What I do plan on doing is finding local roasters that are doing an amazing job and continue to collaborate with them!
Sam over at Mythos Coffee Roasting started his roasting business only a few months ago! When I tried his Colombian light roast coffee, I knew I had to make this our first collab. 
When drinking this coffee you can expect notes of Apple, Honey, Citrus, & Pear. To be honest, I'm still brewing this coffee and the Apple flavor is what really stands out! You can smell it once you open the bag! When you think of honey, when I think of honey I think of it slowly dripping down the side of the bottle, thick but smooth, and a hit of flavor in the back of my tongue. This coffee does that for me! Citrus and pear are a bit of wild cards, the bright acidity of citrus shines through once the coffee starts to cool making it a great iced coffee! 
Can you tell I've thought about every second of this brew.. Sometimes it just comes down to that first sip. I only hope you try this coffee and you're introduced to a world of new coffee. 
About the Coffee
Rossembert Parra, the owner of Finca El Porvenir, is keenly curious about coffee innovation. As an ASOBOMBO association member, he brings youthful energy and several years of farming experience to the cooperative. On Finca El Porvenir, his 7.5-hectare farm in Oporapa, Huila, he cultivates Caturra, Colombia, and Bourbon varieties. This microlot, sourced in partnership with Lohas Beans, was grown at 1822masl and dried in parabolic driers for 16-20 days.
This coffee also has a cup score of 88.25. Pretty damn good coffee! Still on the fence and not sure if you want to buy a full bag? Let me know, I'd be happy to send you a taster! 
OH and you're probably looking at the label and thinking uhh... Luchadores? What's that about? For years I've always thought of ways to introduce luchadores into my work. The luchador is my way to infuse culture back into the brand and tell the story of being a Latino owner. Everyone likes to love Jack Black as a Luchador but he's just a movie character based on real people. This is Cien Caras! Luchadores and the colors and fonts are all of the things that influenced me while designing Coffee Dude and it's become this culmination of different snippets of time that come together to tell the Coffee Dude story.
Ultimately, I hope you enjoy this coffee. I've got 20 bags this release and they are all whole bean which means you'll need a grinder. If things go well and we sell out, Sam will launch a restock over on his site and you can support the roaster directly!